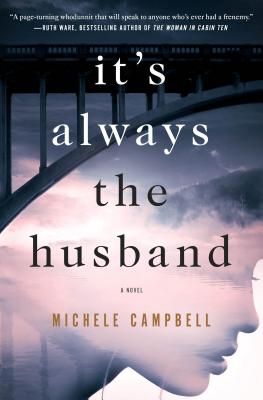 It's Always the Husband
By Michele Campbell
Published by St. Martin's Press
On sale now!
Click here to read an excerpt
In college, Kate, Aubrey and Jenny are inseparable. Twenty years later, their friendship takes a deadly turn . . .
Three young women who could not be more different meet as college roommates and become fast friends.  Wealthy, privileged, blonde and gorgeous, Kate Eastman seems like she has it all.  But her Park Avenue upbringing conceals a tragic loneliness and a wild side powerful enough to drag down everyone around her. Aubrey Miller comes from a poor family and can't believe her luck when she winds up at prestigious Carlisle College rooming with Kate and Jenny. Aubrey would follow Kate anywhere — to parties, to nightclubs, even to her death.  Jenny Vega — bright, pretty, ambitious — is the practical one, the striver, who'd rather study and get ahead than party. She adores her roommates, and she knows they're bad for her. Will she save them from themselves, and each other, or will she become another victim of the chaos that follows in their wake?
A terrible tragedy at the end of freshman year leaves these three young women with a dangerous secret. Twenty years later, older but perhaps no wiser, they return to the scene of the crime. When one of them winds up dead, it could be suicide, or it could be murder. If it was murder, was it the husband – like the cops think – or was it the best friend? This book will keep you guessing until the very last page.
Praise for IT'S ALWAYS THE HUSBAND
"Readers will be left in an adrenaline inducing 'whodunit' game, until the completely unpredictable conclusion.  This book is perfect for fans of Liane Moriarty's Big Little Lies."
—Redbook Magazine (naming IT'S ALWAYS THE HUSBAND one of its "20 Must-Read Books for Spring")
"Demonstrating diabolical plotting chops and an ability to convincingly conjure settings, Campbell crafts a twisty page-turner."
—Publishers Weekly
"Part coming-of-age chronicle and part small-town murder mystery, IT'S ALWAYS THE HUSBAND is rife with plot twists that kept us guessing. Michele Campbell's tense pacing and frank depiction of what turns good friendships into bad news makes this a very entertaining read."
─ Apple iBooks (naming IT'S ALWAYS THE HUSBAND one of May's Five Best Mysteries & Thrillers)
"Twists, turns, and a puzzling mix of suspects . . . will keep readers turning the pages."
—Booklist
"IT'S ALWAYS THE HUSBAND has great character development, allowing readers to really get inside the minds of the characters until the very end, where a shocking twist leaves readers stunned."
—Romantic Times (naming IT'S ALWAYS THE HUSBAND a "Top Pick")
"Campbell's debut novel is an intriguing whodunit that examines the explosive potential of secrets to destroy friendships, marriages, and lives . . . a page-turner."
—Kirkus Reviews
"Secrets and scandals in an ivy league setting. What could be more riveting?  Michele Campbell's novel is a page-turning Peyton Place."
—Tess Gerritsen, #1 bestselling author
"A page-turning whodunit that will speak to anyone who's ever had a frenemy."
—Ruth Ware, bestselling author of The Woman in Cabin Ten
"A brilliant, twisting read that kept me guessing until the final page. A rollercoaster friendship among three college roommates ends in murder years later — unless the husband did it. I read my eyes out!"
—Janet Evanovich, #1 bestselling author
"A skillful and addictive story of friendship, betrayal and ultimately love, IT'S ALWAYS THE HUSBAND will keep you turning the pages until its dramatic end."
—B.A. Paris, bestselling author of Behind Closed Doors
"A compelling and twisting story of friendship, buried secrets, and revenge, IT'S ALWAYS THE HUSBAND gets deep beneath the surface of the ties that bind. Intricately plotted and driven by an undeniable momentum, Michele Campbell's riveting story grabs on, holds tight, and haunts even after the book is closed. Don't miss it!"
—Lisa Unger, bestselling author of The Red Hunter
"A gripping, tangled web of a novel—it pulls you in and doesn't let you go. I loved it!"
—Shari LaPena, bestselling author of The Couple Next Door
Hardcover | 320 pages | 9781250081803
Newsletter Signup:
Sign up here for all the latest news on Michele and her books.
Email address: