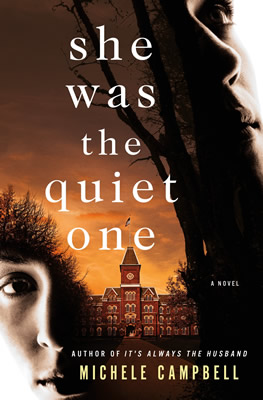 She Was the Quiet One
By Michele Campbell
Published by St. Martin's Press
Coming July 31st!
Click here to read the first chapter
Preorder the book:






When twin sisters Rose and Bel Enright enroll in The Odell School, a prestigious New England boarding school, it seems like the opportunity of a lifetime. But the sisters could not be more different. The school brings out a rivalry between them that few ever knew existed. And the school itself has a dark underbelly: of privileged kids running unchecked and uninhibited; of rituals and traditions that are more sinister than they seem; of wealth and entitlement that can only lead to disaster.
For Sarah Donovan, wife of an ambitious teacher who is determined to rise through the ranks, Odell also seems like the best thing that could happen to their small family. But how well does she really know her husband? What lengths will he go to to achieve his goals? And when one dark night ends in murder, who is guilty, who knows the truth, and who has been in on it all along? SHE WAS THE QUIET ONE. Because murderers are almost never who you expect.
Praise for Michele Campbell's IT'S ALWAYS THE HUSBAND
"The most riveting whodunit suspense of summer."
— Redbook (naming It's Always the Husband one of "20 Books You Need to Take to the Beach This Summer")
"Fans of Ruth Ware and Gillian Flynn meet your next obsession."
— BuzzFeed (naming It's Always the Husband one of "8 Thrillers You Will Devour This Summer")
"Michele Campbell tells a riveting, suspenseful tale of love, hate and murder."
— Us Weekly
"A shocking page-turner from the first page to the addictive last."
— PopSugar
"The new page turning thriller by Michele Campbell, It's Always the Husband leaves readers guessing until the very last page."
— Huffington Post
"A whodunit suspense novel that will keep you guessing with every page."
— Elle (naming It's Always the Husband one of "6 Books to Cure Your Big Little Lies Withdrawal")
One of "15 New Thrillers That'll Have You Sleeping With the Lights On"
— PureWow
One of "15 New Thrillers That Could Be This Year's 'Gone Girl'"
— BookBub
One of "The Top 10 Thrillers for Fans of Gillian Flynn"
— Culturalist
One of "15 Hot New Summer Beach Reads"
— Working Mother Magazine
Hardcover | 352 pages | 9781250081834
Newsletter Signup:
Sign up here for all the latest news on Michele and her books.
Email address: