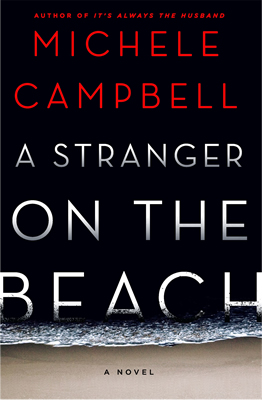 A Stranger on the Beach
By Michele Campbell
Published by St. Martin's Press
Coming July 23, 2019!
Click here to read the first two chapters
From the bestselling author of It's Always the Husband comes a novel about a love triangle that begins on a fateful night…
There is a stranger outside Caroline's house.
Her spectacular new beach house, built for hosting expensive parties and vacationing with the family she thought she'd have. But her husband is lying to her and everything in her life is upside down, so when the stranger, Aidan, shows up as a bartender at the same party where Caroline and her husband have a very public fight, it doesn't seem like anything out of the ordinary.
As her marriage collapses around her and the lavish lifestyle she's built for herself starts to crumble, Caroline turns to Aidan for comfort…and revenge. After a brief and desperate fling that means nothing to Caroline and everything to him, Aidan's obsession with Caroline, her family, and her house grows more and more disturbing. And when Caroline's husband goes missing, her life descends into a nightmare that leaves her accused of her own husband's murder.
A Stranger on the Beach is Fatal Attraction meets You meets Big Little Lies in Michele Campbell's edge-of your-seat story of passion and intrigue.
PRAISE FOR MICHELE CAMPBELL'S SHE WAS THE QUIET ONE
"A thriller full of dark secrets and a vicious murder, this novel is a Summer must read."
— PopSugar
"The former federal pros­ecutor got attention for her debut, Its Always the Husband, but this thriller set in a world of privilege promises to be her breakout."
— The Hollywood Reporter (naming She Was the Quiet One one of "10 Hot Summer Books" and "Must-Reads")
"A brilliant read, full of intrigue and amazing twists."
— B.A. Paris, author of "Bring Me Back"
"Intriguing . . . Campbell masterfully hid[es] vivid details until the end. . . Skillful characterization and [a] shocking final twist."
— Booklist
"A deep and disturbing mystery."
— Barnes and Noble (naming She Was the Quiet One one of July's best new thrillers)
"From feuding sisters to a shady advisor and his naïve wife, this new novel from Michele Campbell is the perfect summer escape."
– Brit + Co
"This enticing thriller examines the extent to which someone will go in order to achieve their goals and the tragic outcome of one sibling rivalry."
— PopSugar
"A creepy thriller that has notes of Mean Girls and The Secret History."
– Refinery 29
"Tons of twists and turns."
– BookStr
"Once again, Campbell peels back the layers of a perfect marriage to reveal something dark and unexpected, while also exposing a privileged world full of contradictions. Campbell is building herself an admirable career telling stories about the underbelly of 'success.'"
– LitHub Crime Reads
"A new thriller full of hazing, suspicious teachers and a tragic murder, She Was the Quiet One is a dark tale about sisterhood and the need to get ahead."
– BookBub
"[A] twisted tale of sisterhood and what happens when you trust devious characters."
– SheReads

PRAISE FOR MICHELE CAMPBELL'S IT'S ALWAYS THE HUSBAND
"The most riveting whodunit suspense of summer."
— Redbook (naming It's Always the Husband one of "20 Books You Need to Take to the Beach This Summer")
"Fans of Ruth Ware and Gillian Flynn meet your next obsession."
— BuzzFeed (naming It's Always the Husband one of "8 Thrillers You Will Devour This Summer")
"Michele Campbell tells a riveting, suspenseful tale of love, hate and murder."
— Us Weekly
"A shocking page-turner from the first page to the addictive last."
— PopSugar
"The new page turning thriller by Michele Campbell, It's Always the Husband leaves readers guessing until the very last page."
— Huffington Post
"A whodunit suspense novel that will keep you guessing with every page."
— Elle (naming It's Always the Husband one of "6 Books to Cure Your Big Little Lies Withdrawal")
One of "15 New Thrillers That'll Have You Sleeping With the Lights On"
— PureWow
One of "15 New Thrillers That Could Be This Year's 'Gone Girl'"
— BookBub
One of "The Top 10 Thrillers for Fans of Gillian Flynn"
— Culturalist
One of "15 Hot New Summer Beach Reads"
— Working Mother Magazine
Hardcover | 352 pages | 978-1250202536
Newsletter Signup:
Sign up here for all the latest news on Michele and her books.
Email address: