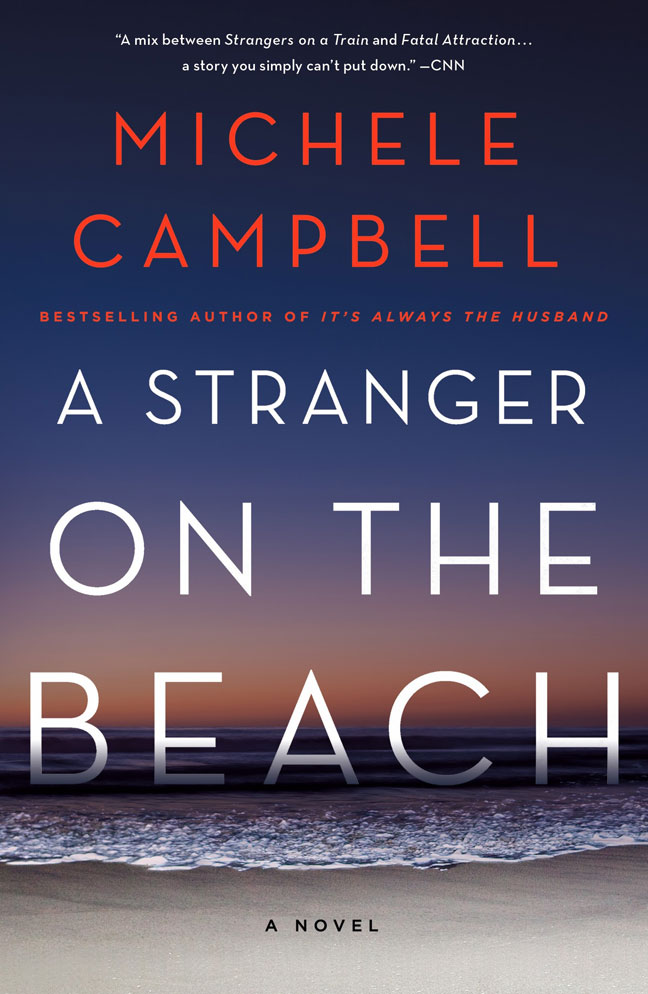 A Stranger on the Beach
By Michele Campbell
Published by St. Martin's Press
Now available in paperback!
Click here to read the first two chapters
From the bestselling author of It's Always the Husband comes a novel about a love triangle that begins on a fateful night…
There is a stranger outside Caroline's house.
Her spectacular new beach house, built for hosting expensive parties and vacationing with the family she thought she'd have. But her husband is lying to her and everything in her life is upside down, so when the stranger, Aidan, shows up as a bartender at the same party where Caroline and her husband have a very public fight, it doesn't seem like anything out of the ordinary.
As her marriage collapses around her and the lavish lifestyle she's built for herself starts to crumble, Caroline turns to Aidan for comfort…and revenge. After a brief and desperate fling that means nothing to Caroline and everything to him, Aidan's obsession with Caroline, her family, and her house grows more and more disturbing. And when Caroline's husband goes missing, her life descends into a nightmare that leaves her accused of her own husband's murder.
A Stranger on the Beach is Fatal Attraction meets You meets Big Little Lies in Michele Campbell's edge-of your-seat story of passion and intrigue.
PRAISE FOR A STRANGER ON THE BEACH
"A Stranger on the Beach rides its rising tide of terror to a finale that blanched my knuckles. An exceptionally suspenseful thriller."
— A.J. Finn, number one New York Times bestselling author of The Woman in the Window
"[E]ngrossing . . . breezy intrigue on a hot summer day."
— Publishers Weekly
"Michele Campbell's edge-of-your seat story of passion and intrigue will keep you guessing until the very end."
— Bookstr
"Master of suspense Michele Campbell is back with a twisted new thriller: A Stranger on the Beach."
— PopSugar
"This highly anticipated summer novel is a twisted story for fans of Dirty John.
— Brit + Co.
"A roller coaster of fear and intrigue . . . [A]n engrossing he-said, she-said thriller."
— Booklist
"Bestselling author Michele Campbell's newest thriller is full of passion, intrigue, and nail-biting drama."
— The Nerd Daily
"[T]akes the popular summer fling and gives it a dark twist you won't be able to get out of your head."
— Mod About You
"[A] suspenseful new novel that will have you completely ensnared from beginning to end."
— Working Mother
"Michele Campbell's latest thriller is full of unexpected moments you won't see coming."
— Women.com
One of "The Best Beach Reads for Summer 2019"
— PureWow
Named to "Your Ultimate List of Summer 2019 Beach Reads"
— BookBub
One of "The Most Anticipated Thrillers of Summer 2019"
— She Reads
One of "10 Books Written by Women We Can't Wait to Read in 2019"
— Parade
One of "The Most Anticipated Crime Books of Summer"
— CrimeReads
One of "7 Must-Read Books for Fans of True Crime"
— Brit + Co.
Hardcover | 352 pages | 978-1250202536
Newsletter Signup:
Sign up here for all the latest news on Michele and her books.
Email address: