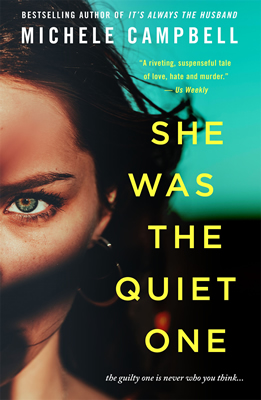 She Was the Quiet One
By Michele Campbell
Published by St. Martin's Press
Now in paperback!
Click here to read the first chapter
Order the book:






When twin sisters Rose and Bel Enright enroll in The Odell School, a prestigious New England boarding school, it seems like the opportunity of a lifetime. But the sisters could not be more different. The school brings out a rivalry between them that few ever knew existed. And the school itself has a dark underbelly: of privileged kids running unchecked and uninhibited; of rituals and traditions that are more sinister than they seem; of wealth and entitlement that can only lead to disaster.
For Sarah Donovan, wife of an ambitious teacher who is determined to rise through the ranks, Odell also seems like the best thing that could happen to their small family. But how well does she really know her husband? What lengths will he go to to achieve his goals? And when one dark night ends in murder, who is guilty, who knows the truth, and who has been in on it all along? SHE WAS THE QUIET ONE. Because murderers are almost never who you expect.
PRAISE FOR SHE WAS THE QUIET ONE
"[A] mystery with teeth — and nails."
— The New York Times Book Review
"A thriller full of dark secrets and a vicious murder, this novel is a Summer must read."
— PopSugar
"The former federal pros­ecutor got attention for her debut, Its Always the Husband, but this thriller set in a world of privilege promises to be her breakout."
— The Hollywood Reporter (naming She Was the Quiet One one of "10 Hot Summer Books" and "Must-Reads")
"A brilliant read, full of intrigue and amazing twists."
— B.A. Paris, author of "Bring Me Back"
"Intriguing . . . Campbell masterfully hid[es] vivid details until the end. . . Skillful characterization and [a] shocking final twist."
— Booklist
"A deep and disturbing mystery."
— Barnes and Noble (naming She Was the Quiet One one of July's best new thrillers)
"From feuding sisters to a shady advisor and his naïve wife, this new novel from Michele Campbell is the perfect summer escape."
– Brit + Co
"This enticing thriller examines the extent to which someone will go in order to achieve their goals and the tragic outcome of one sibling rivalry."
— PopSugar
"A creepy thriller that has notes of Mean Girls and The Secret History."
– Refinery 29
"Tons of twists and turns."
– BookStr
"Once again, Campbell peels back the layers of a perfect marriage to reveal something dark and unexpected, while also exposing a privileged world full of contradictions. Campbell is building herself an admirable career telling stories about the underbelly of 'success.'"
– LitHub Crime Reads
"A new thriller full of hazing, suspicious teachers and a tragic murder, She Was the Quiet One is a dark tale about sisterhood and the need to get ahead."
– BookBub
"[A] twisted tale of sisterhood and what happens when you trust devious characters."
– SheReads

Praise for Michele Campbell's IT'S ALWAYS THE HUSBAND
"The most riveting whodunit suspense of summer."
— Redbook (naming It's Always the Husband one of "20 Books You Need to Take to the Beach This Summer")
"Fans of Ruth Ware and Gillian Flynn meet your next obsession."
— BuzzFeed (naming It's Always the Husband one of "8 Thrillers You Will Devour This Summer")
"Michele Campbell tells a riveting, suspenseful tale of love, hate and murder."
— Us Weekly
"A shocking page-turner from the first page to the addictive last."
— PopSugar
"The new page turning thriller by Michele Campbell, It's Always the Husband leaves readers guessing until the very last page."
— Huffington Post
"A whodunit suspense novel that will keep you guessing with every page."
— Elle (naming It's Always the Husband one of "6 Books to Cure Your Big Little Lies Withdrawal")
One of "15 New Thrillers That'll Have You Sleeping With the Lights On"
— PureWow
One of "15 New Thrillers That Could Be This Year's 'Gone Girl'"
— BookBub
One of "The Top 10 Thrillers for Fans of Gillian Flynn"
— Culturalist
One of "15 Hot New Summer Beach Reads"
— Working Mother Magazine
Trade Paperback | 368 pages | 978-1250081841
Newsletter Signup:
Sign up here for all the latest news on Michele and her books.
Email address: