A Book of the Month Selection!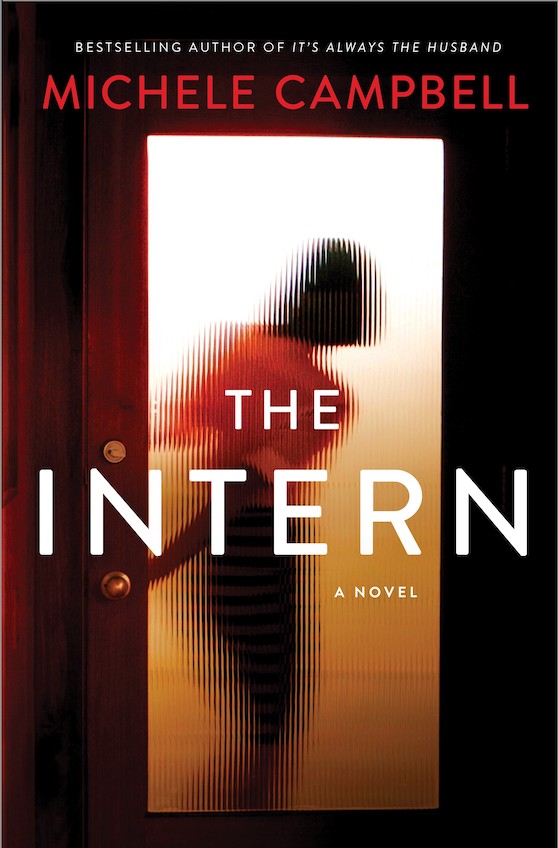 Book Trailer:

THE INTERN
By Michele Campbell
Published by St. Martin's Press
Now Available!
Click here to read the first chapter
A young Harvard law student falls under the spell of a charismatic judge in this timely and thrilling novel about class, ambition, family and murder.
Madison Rivera lands the internship of a lifetime working for Judge Kathryn Conroy. But Madison has a secret that could destroy her career. Her troubled younger brother Danny has been arrested, and Conroy is the judge on his case. When Danny goes missing after accusing the judge of corruption, Madison's quest for answers brings her deep into the judge's glamorous world. Is Kathryn Conroy a mentor, a victim, or a criminal? Is she trying to help Madison or use her as a pawn? And why is somebody trying to kill her? As the two women circle each other in a dangerous cat-and-mouse game, will they save each other, or will betrayal leave one of them dead?
Early raves for THE INTERN
"This is suspense at its finest! Sharply written and masterfully plotted, The Intern is an addictive and cinematic page-turning thriller, further cementing Michele Campbell as a top voice in the genre."
— Jeneva Rose, New York Times bestselling author of You Shouldn't Have Come Here.
"Completely entertaining! With its nonstop action, powerful motivations, propulsive pace, and cinematic Boston setting, THE INTERN has Hollywood written all over it. Michele Campbell has perfected the modern legal thriller– and fans of The Firm will devour this contemporary high-stakes combination of family pressures, legal machinations, and jaw-dropping twists. I could not turn the pages fast enough!"
— Hank Phillippi Ryan, USA Today Bestselling author of The House Guest.
"THE INTERN had me hooked from page one. It's a deftly plotted, fast-moving thriller featuring two brainy, badass women I was rooting for immediately. Both Madison and Kathryn are believably imperfect, each struggling with her own family ties and inherited obligations, while trying to pursue happiness and ambition at the very highest echelons of law and society. The cat-and-mouse storyline kept me guessing right up to its suspenseful, satisfying conclusion. At the same time, this is also a story about redemption, resilience, and the right to free oneself from the past, no matter what that may have been."
— Helen Wan, author of The Partner Track, currently streaming on Netflix.
"Richly drawn characters and a fascinating premise that enthralls from page one. Campbell keeps the twists coming until the tension is almost unbearable. Harrowing in the best way, I raced through this compelling read!"
— Liv Constantine, internationally bestselling author of THE LAST MRS. PARRISH
"The Intern is part John Grisham, part Lisa Gardner. Character-driven suspense that kept me up reading far too late."
— Robert Dugoni, New York Times Bestselling Author of the Tracy Crosswhite Series
"Wow, what a thrill ride! Grisham meets Gillian Flynn. Simply unputdownable!"
— Wendy Walker, bestselling author of What Remains.
"I tore through this expertly crafted tale of two brilliant women, trapped in a dangerous cat-and-mouse game, both with too much to lose. Filled with keen insights about class, ambition and family, The Intern is sure to be a huge fall hit."
— Kaira Rouda, USA Today bestselling author of Beneath the Surface.
"THE INTERN is an expertly crafted page-turner that thrums with tension, authenticity, and heart. Fans of gripping legal thrillers will devour it!"
— Robyn Harding, internationally bestselling author of THE PARTY.
"Harvard Law School student Madison Rivera gets sucked into a deadly vortex of lies and secrets when she starts working for influential federal judge Katherine Conroy in Michele Campbell's non-stop roller coaster of a thriller, The Intern. Campbell's deep knowledge of the law, well-drawn characters, and skill at creating plots with surprises at every turn shine through. This is a don't miss read!"
— Sarah Stewart Taylor, author of the Maggie D'arcy mystery series.
"Your Honor meets The Sopranos meets every twist Michele Campbell has ever delivered, times ten. A surefire hit you shouldn't start until you clear your calendar. A revenge thriller at its best!"
— Jaime Lynn Hendricks, bestselling author of I Didn't Do It.
"THE INTERN expertly entwines plot surrounding family, success, ethics, justice, and ultimately, courage, in a breathless race to the satisfying finish."
— Jessica Strawser, author of The Next Thing You Know.
Newsletter Signup:
Sign up here for all the latest news on Michele and her books.
Email address: